The Satchel is an item in the Day of Defeat series. The item is used in both Day of Defeat and Day of Defeat: Source. It is used to destroy objectives in certain maps.
Day of Defeat
[
]
In DoD, the Satchel is used by both the Allied and Axis forces. The U.S/ British stachel is a buckled-up napsack with many blocks of explosive in it while the German Satchel takes the form of several sticks of Dynamite strapped together with a time on it. The Satchels, as mentioned above, is used for the destruction of key objectives of a team. On maps such as dod_charlie, the U.S will use them to advance toward the German defences nearby. The Satchel is also a very powerful explosive weapon, as anyone near the explosion's damage radius will take severe damage, or maybe even killed.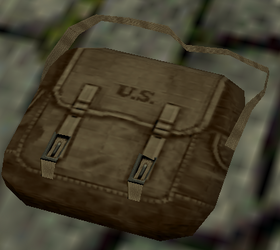 Day of Defeat: Source
[
]
In DoD:S, the Satchel retains it's main use and it's lethal power. This time their appeal is the same; 3 blocks of TNT explosives strapped together with safety cord. This Satchel is used by both teams.