The PIAT is an anti-tank weapon in the original Day of Defeat. It is only usable by the British.
In-game
[
]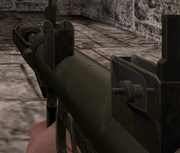 The PIAT looks almost like a real-life PIAT used by British forces during WWII. Like the Bazooka and Panzerschreck, the PIAT will instantly kill on a direct hit on any part of the body. It deals a maximum of 127 damage, which is less than an explosive grenade, which deals a maximum of 138 damage.
The PIAT needs to be shouldered first before firing.
Trivia
[
]
Unlike the Bazooka or the Panzerschreck, the PIAT is actually spring powered and not rocket powered.