The M1 Thompson is a Sub-Machine Gun chambered with the .45 ACP pistol round and is featured in the Day of Defeat series. In the original, it is one of two SMGs available to the American team, in Day of Defeat: Source however it is the only SMG available for the Americans.
It is used in the Master Sergeant class in Day of Defeat and the Assault class in Source.
Day of Defeat
[
]
Day of Defeat: Source
[
]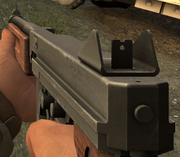 In DoD:S, the Thompson looks similar to the version from DoD, but with a shinier finish due to the Source engine the game uses. It has a slightly faster rate of fire than its in-game German counterpart, the MP40. However, due to a slightly higher rate of fire, the M1 Thompson has more recoil with prolonged fire than that of the MP-40. Its secondary function is a left-handed punch which deals the same amount of damage as the knife and spade.
In game, the M1 Thompson deals 40 damage to the torso, 30 damage to legs and arms, and 100 damage to the head, making it one of the weaker hitting weapons in the game. It makes up for it with its rate of fire.
The secondary punch attack deals 60 damage to the torso, 45 damage to the legs and arms, and 150 damage to the head.
The M1 Thompson has the exact same damage per bullet as the, M1911, M1 Carbine, MP40, C96, and P38.